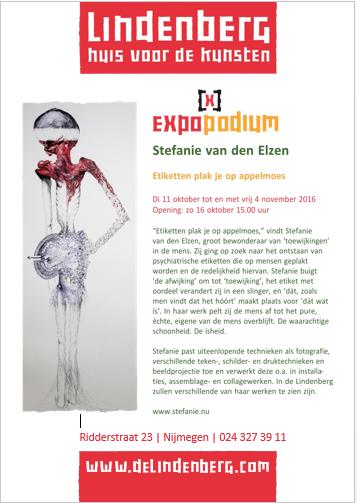 October 11 through November 4, 2016
Cultuurhuis Lindenberg, Nijmegen.
Stefanie wins, as a result of her graduation work at the University of Arts, a solo exhibition at Cultuurhuis Lindenberg in Nijmegen.
"Stick labels on a can of beans.", says Stefanie van den Elzen, great admirer of addviations in man. She went in search of the origin of psychiatric labels that are stuck on people and the reasonableness of that.
She bends the Deviaton into the Addviation, she changes 'the label with judgment' into 'a sling', and 'that as one thinks it should be' makes way for 'that what ís'. In her work she peels off the human being until what remains is the pure, real, individuality of one. The true beauty. The ísness.
Stefanie uses various techniques such as photography, different drawing, painting and printing techniques and image projection and incorporates these in installations, assemblages and collages. Several of her works will be on display in Cultuurhuis Lindenberg.